Introducing: TheXPlace Events!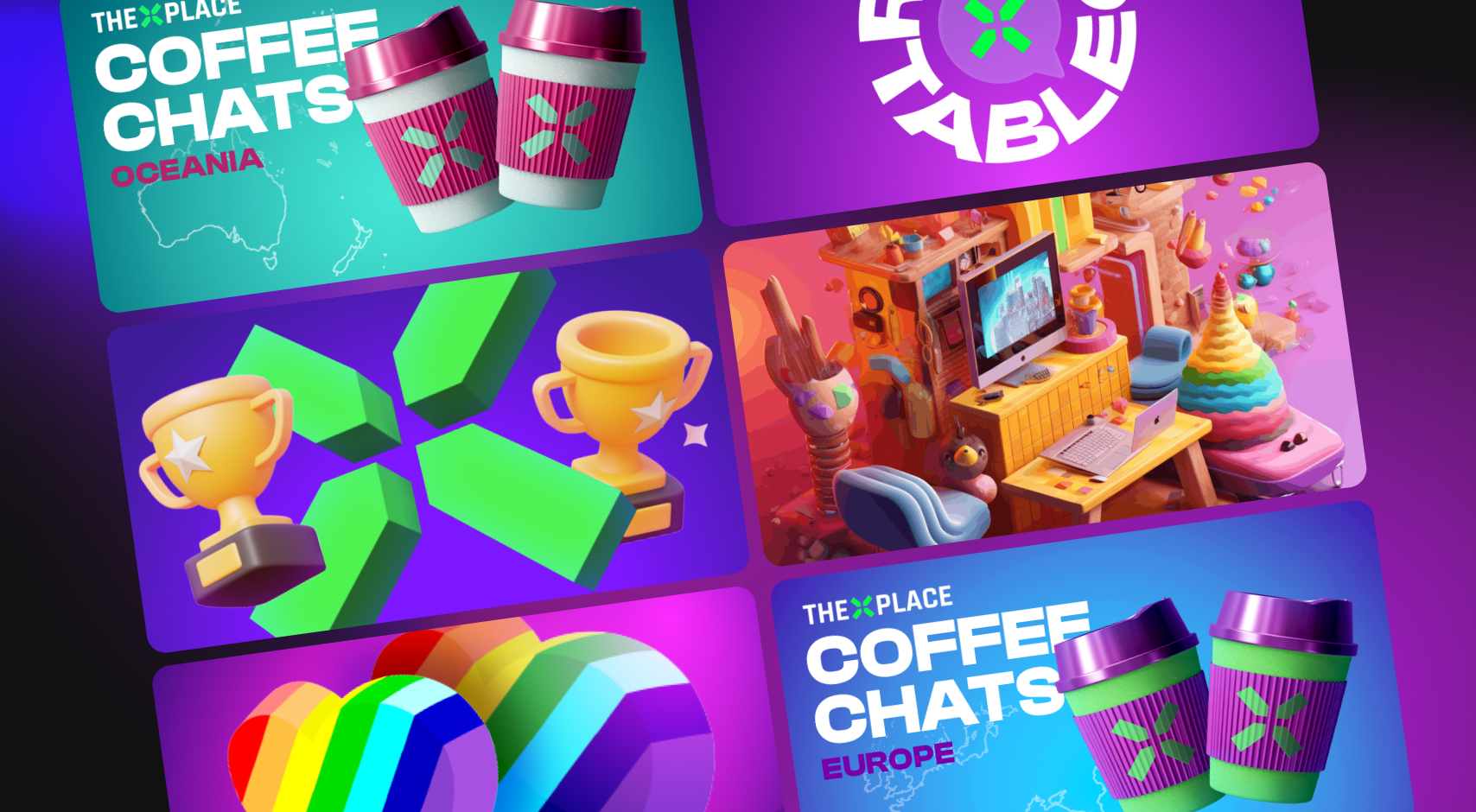 We are excited to share with you a new feature of TheXPlace - one that will help you build your skills and network in the video games industry: TheXPlace Events.
Events on TheXPlace are a new way to bring our community together safely. We believe that everyone should have access to opportunities to learn, connect, and grow in their career.  Events are open to all members of our community regardless of age, gender, race, or experience level, and all members of TheXPlace have been vetted and must follow a code of conduct.
The pandemic forced changes in how we network, but what blossomed from that is more global opportunities and better accessibility when done virtually! In-person events are great, but we recognize a need for "digital networking" and the significant value (and convenience!) that building these communities online offers. Community is an important source of support, whether in-person or virtually.
Game development is a team sport, so it can only help you to meet a wide array of potential team members and collaborators. With TheXPlace Events, you can upskill, meet other game development professionals, and participate in workshops and game jams from wherever you are –all, without the need to pay exorbitant travel costs. And because all attendees are already vetted, this is a safe space for all participants, and that's important.
The Events Portal is Awesome!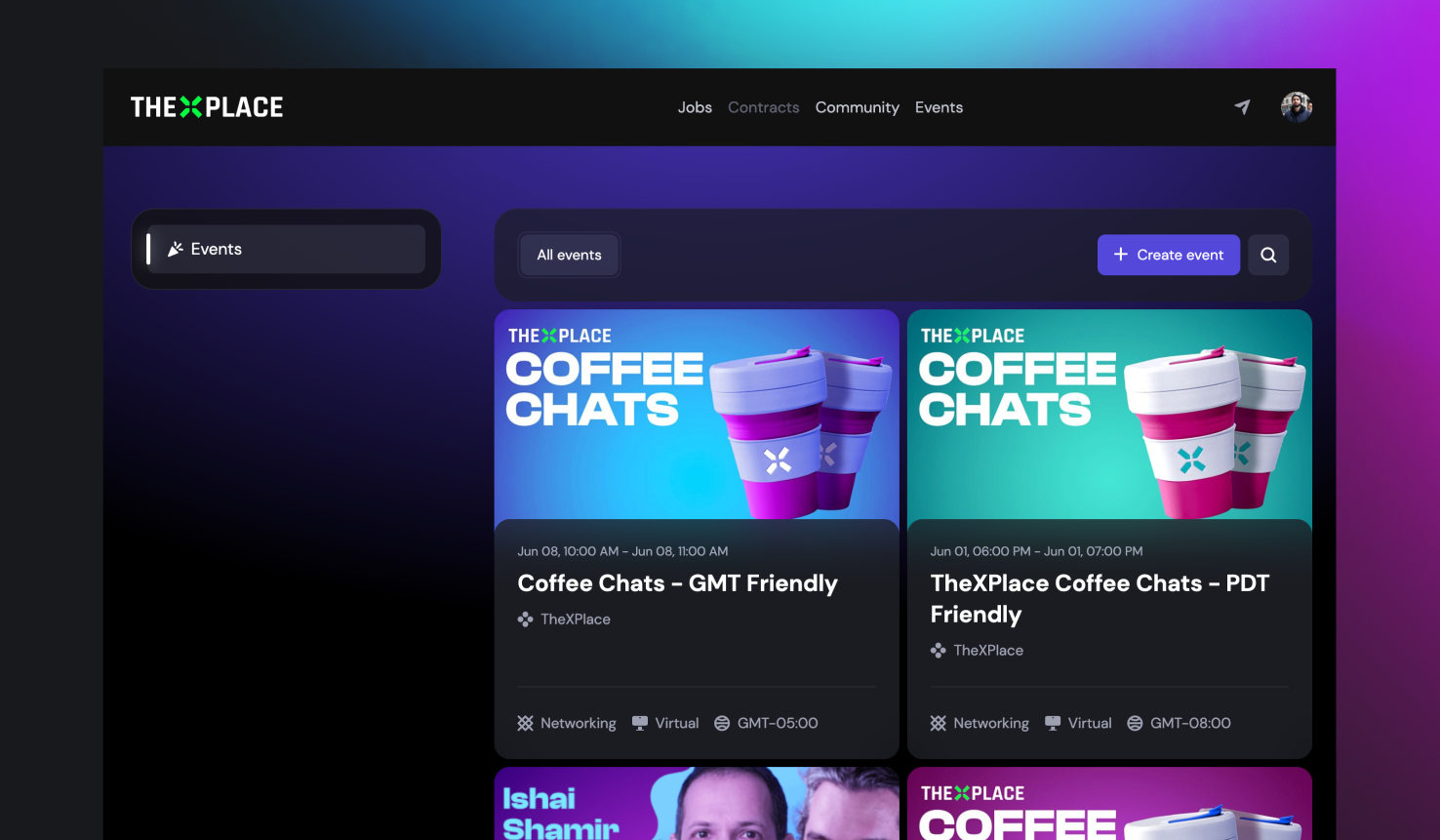 Cultivate your community! Form connections worldwide, meet professionals within your discipline, or across the industry, and unlock opportunities.
Level up your skills! We're a fast-evolving industry, so it's important that we continue to upskill and evolve our craft and stay with the latest and greatest trends and practices.
Cross-pollinate and collaborate! The more creative people you meet, the more you can discuss new ideas, learn from each other, and start new collaborations and even lifelong friendships among your peers.
Stay visible! If you're someone whose travel abilities are limited, or you're a remote worker, what better way to stay in touch with folks, stay top-of-mind in your discipline, and remain active in the development community?
Freshen up the portfolio! A good professional portfolio isn't just a snapshot of your career's work. It also demonstrates your skills. As your skills grow, show them off! You never know what employer wants your exact combination of superpowers.
Ignite that creativity! Who will you meet, and how will they inspire you? One of the great things about being in a creative industry is the magic that can happen through inspiration and collaboration. You can unlock that here!
Join Your Next Event Through TheXPlace!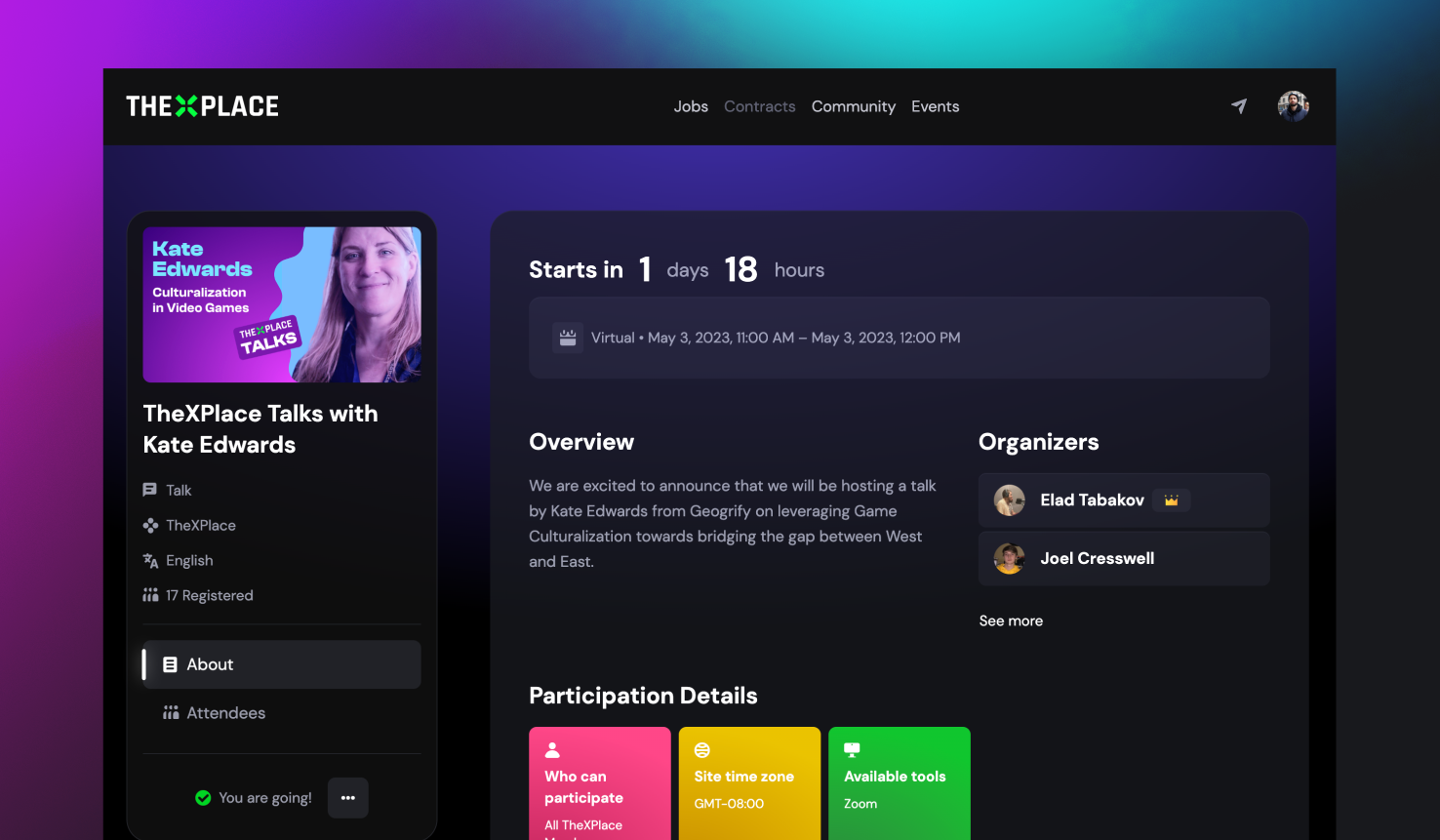 We're already working on exciting new events to help you improve your experience. We want to offer our community a blended experience by hosting different types of events every month:
Coffee Chats. Looking to network and socialize with other professionals in the game industry? Our Coffee Chats are the perfect place to broaden your circle. Hosted by our team, these sessions provide a unique opportunity to join a small group of 4-5 industry professionals, for an informal chat and exchange of ideas.
Round Table Talks. To foster a collaborative space and knowledge sharing around specific domains and subject areas, we are introducing Round Table Talks. Every month we invite industry professionals to discuss top-of-mind topics, learning, and insights around specific disciplines and cross-discipline topics.
Contests. We're thrilled to have already had  our first Design Contest! Open to everyone in TheXPlace community from beginners to experienced professionals, our Design Contest challenged participants  to let their creativity run wild. Not only is participating in events like this a great way to build your portfolio and gain industry exposure, but it is  also a chance for creators to show off their  work to a panel of expert judges and other professionals in the industry.
Game Jams. This is a perfect opportunity to meet and collaborate with other industry professionals who share your passion for creating games. Freshen up your portfolio, and ignite a new spark of creativity. As a bonus, you can add games and assets you've created at the jam to your portfolio and your Game-Jam collaborators, to your trusted community. This especially helps if you're early in your career, or if you're a seasoned professional who can't post your best work because of NDAs or because your project didn't ship.
We invite you to experience the wonderful creative bursts that come from collaboration, the sustenance that comes from community, and the exposure that comes from putting yourself and your body of work out there. TheXPlace is here to help make those happen for you! To get started attending events, click here.